Automating compliance to make Financial Regulation Easy!
FinregE's award-winning regulatory compliance solution is leveraged by clients in the financial services industry to fully automate compliance processes. Our software keeps you informed on current and future regulations, uses ML/AI to identify and interpret regulatory requirements and integrates compliance workflows for action and compliance management.
A fully integrated suite of regulatory compliance modules in a single solution
Our powerful AI driven platform provides complete and proactive oversight to simplify compliance to existing and evolving regulations. With FinregE, our clients can:
RIGTM - A first in offering an AI Regulatory Expert
RIG is the world's first AI-powered virtual compliance expert that acts as a conversational partner for interrogating regulatory texts.

Our Regulatory Insights Generator (RIG) allows you to read through, cross reference, summarise or interpret multiple text-heavy laws and regulatory documents in a matter of seconds.

We´re the only company in the world that captures every regulatory update the minute it happens, wherever it´s released, and delivers it to our clients in a fully automated and structured way. This, coupled with workflow and insight, substantially reduce costs and risk of non-compliance.
Regulatory coverage across 110 countries
Regulatory content coverage across 1000 websites sources
An average of 21,000 regulatory publications captured for month (570 per day, 4 new publications every 10 minutes)
Regulatory Content Coverage by Content Type
Regulatory coverage across 110 countries
Regulatory content coverage across 1000 websites sources
An average of 21,000 regulatory publications captured for month (570 per day, 4 new publications every 10 minutes)
Regulatory Content Coverage by Content Type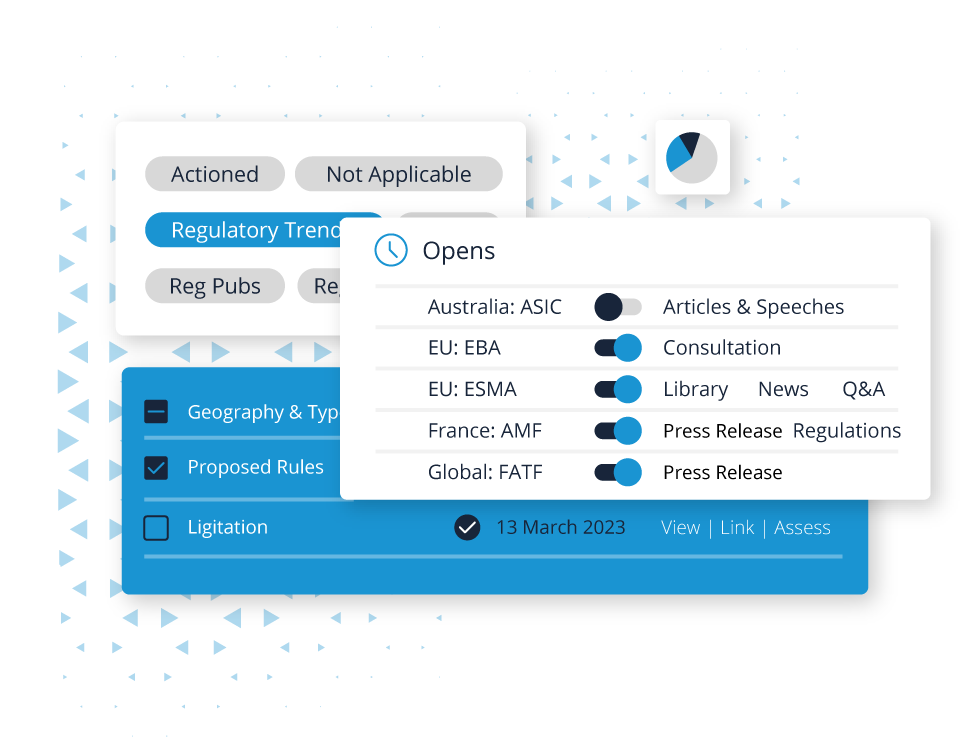 Regulatory Horizon Scanning
FinregE's Regulatory Change Viewer provides a single place to receive structured information on regulatory news and developments across global sources.
Governance, Risks and Compliance Controls Mappings
Our governance, risk and compliance controls mapping workflow connects regulatory developments, existing regulations and laws to institutional policies, procedures, risks and controls in real-time to provide trackability and traceability of regulatory content to internal compliance data and environment.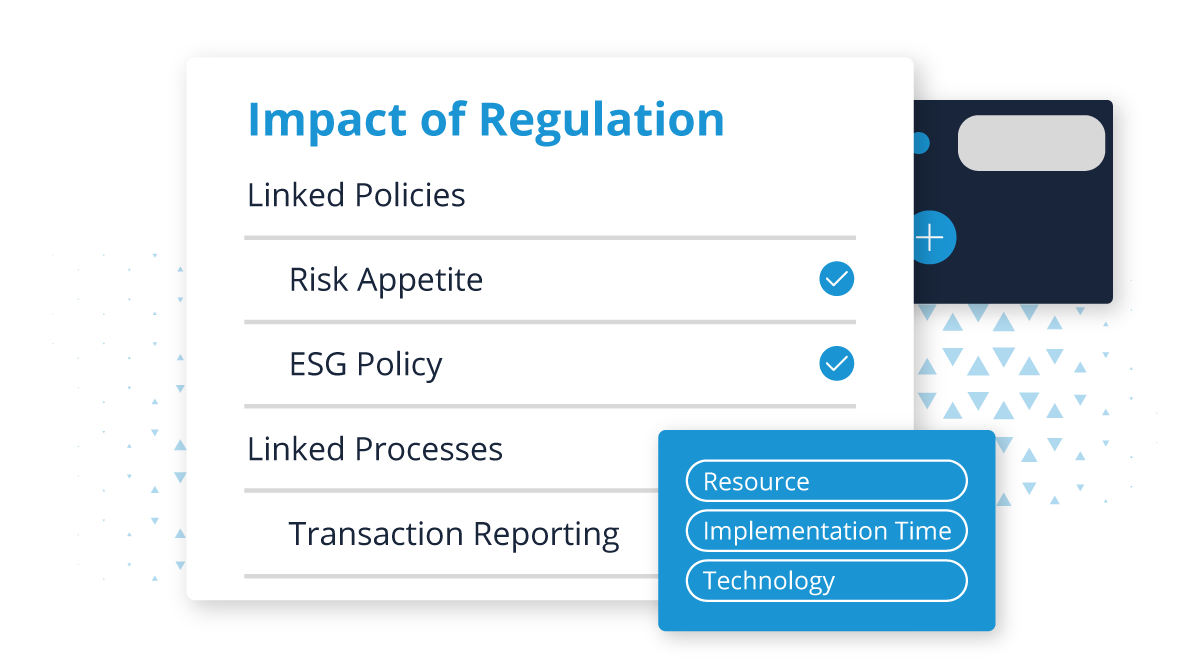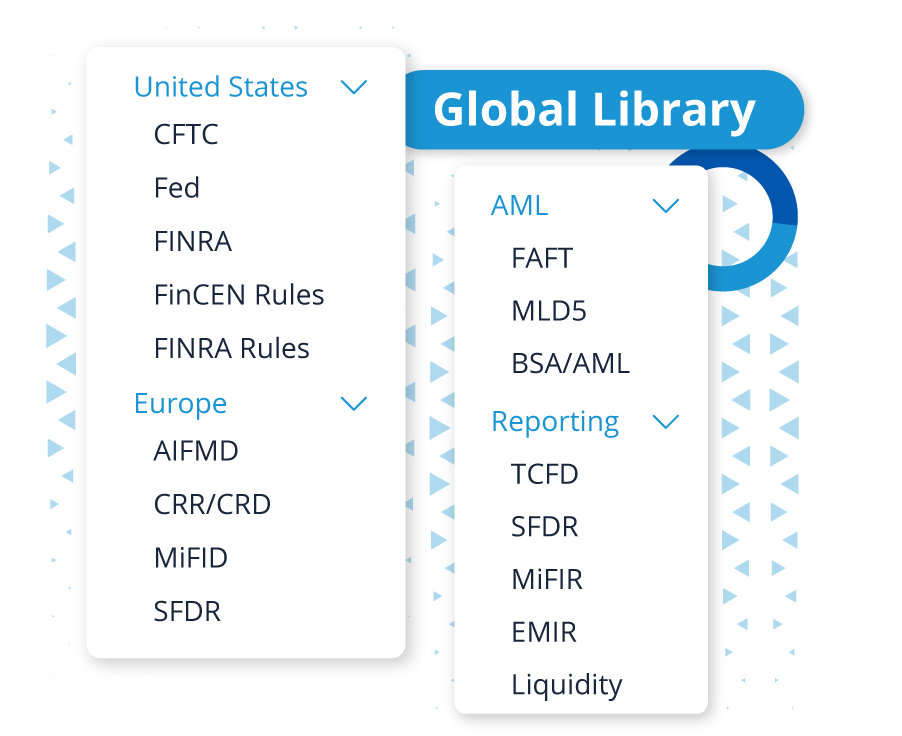 Machine Readable Rule Inventories
Our Global Library© provides structured, machine readable, rule paragraph level inventories of regulations and laws customised to an institutions internal regulatory footprint. Regulations in the global library can be filtered for applicability at paragraph rule level per business line, and are maintained across versions with full timeline history and tracked changes between versions.
Compliance monitoring and self-assessments workflows
FinregE provides pre-defined and pre-configured compliance workflows that support regulatory change impact assessments, senior manager attestations, regulatory affairs management, regulatory remediation and annual compliance monitoring activities.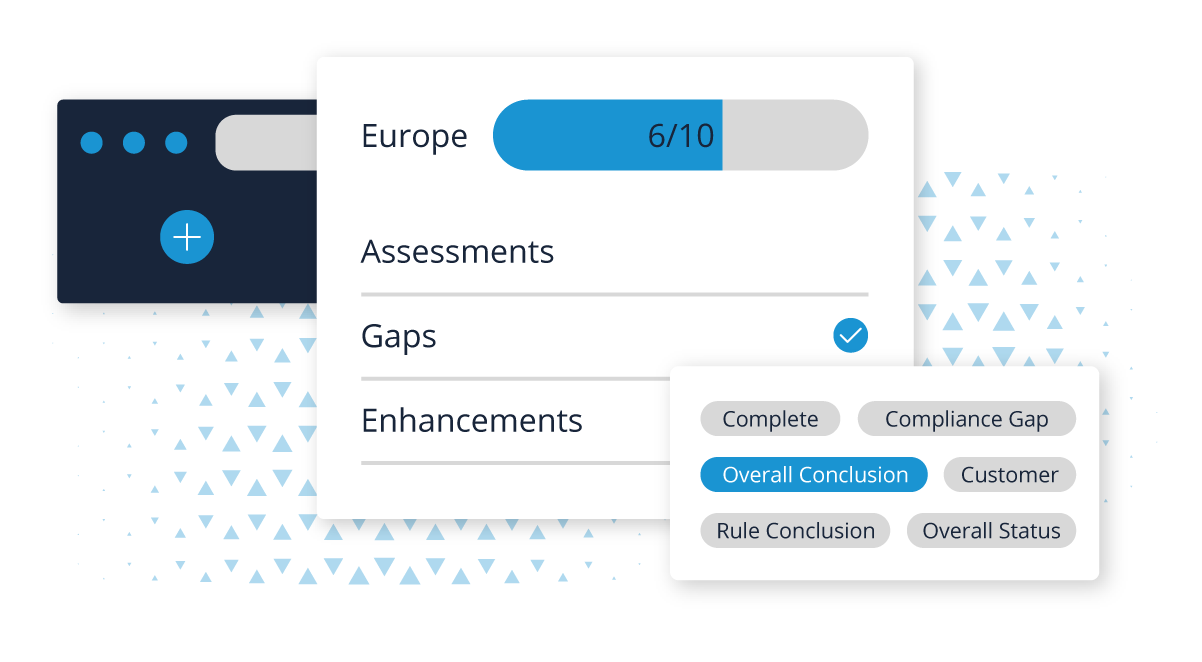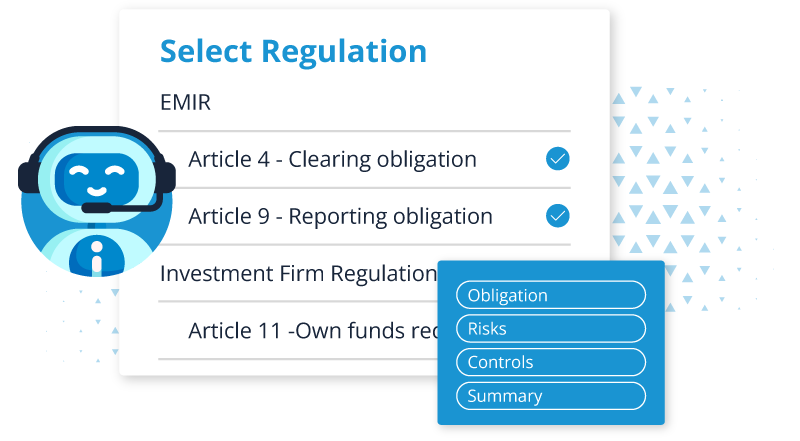 Machine-derived Regulatory Interpretations
FinregE's generative AI for legal/regulatory texts provides a summary of key actions, policies, processes and controls required at a regulatory rule or overall legislation level.
Regulatory Compliance Reporting, Audit and Dashboarding
FinregE provides standard and customised dashboards analytics and reporting on insights into actions being taken, the status, priorities, due dates and tasks being performed across its suite of regulatory change and regulatory compliance solution modules and data. Our platform maintains an extensive audit trail of compliance activities and actions being performed by platform users.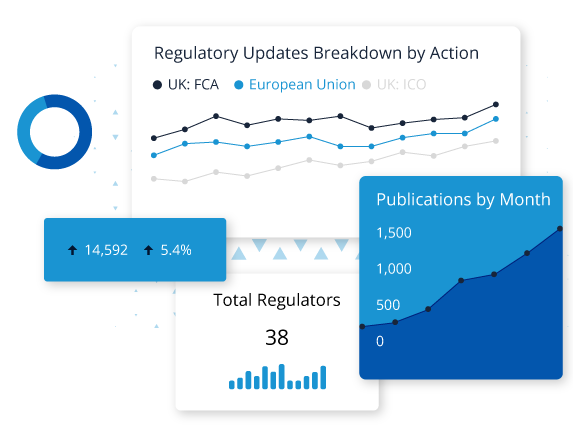 What some of our clients have to say
FinregE acts more like a strategic technology partner than simply another technology vendor. The team really try to understand the compliance problem we are trying to solve and train and configure their software to meet our existing processes and teams and businesses enterprise set-up.
Many providers can provide you with a data feed on regulators developments that is either delayed, missing relevant updates or sources of information or the publications are unstructured and uncategorised. With FinregE, you get a fully customised, consistently structured and fully topic tagged data feed on regulatory developments across global sources. What has also been useful is being able to get access to this data via customised APIs and filtering based on our needs and requirements.
With FinregE, the biggest benefit to us has been reducing the manual effort and time taken for us to manage numerous messy email subscriptions and RSS feeds to keep on top of regulatory changes, as FinregE brings all the information we need to us in their platform.
We really like FinregE's machine readable regulations solution – it has helped us build repository of all of key laws and rulebooks in a single place, with useful citations between the same laws in different countries and tracked changes between old and new versions of a single law.
FinregE has saved us a huge amount of time in reporting. All my board packs and management information are now automated in FinregE along with the regulatory data and internal actions being taken against them. Every quarter, the dashboard is already up to date, designed and ready to use by simple copying and pasting into my PowerPoint pack.
Based on our comparison from other vendors, FinregE offer the best regulatory change assessment workflow and SIF attestation self-assessment workflow. They capture the right information required to monitor compliance and actions and the automation in the UI help keep track of and manage the workload.
We tested FinregE's machine learning to help us match our policies to 21 laws and regulations. The results were interesting and helped us identify some gaps against our polices and rules and also helped us understand how we can structure our policy universe better.
FinregE Weekly Regulatory News Alerts
Stay up-to-date with the latest regulatory changes. Sign up to FinregE's weekly regulatory alerts news.
Managing and maintaining regulatory compliance is one of the most time and resource consuming activities facing our customers. Our technology substantially reduces this burden. It also has a big impact on reducing the risks of making compliance related mistakes. We would be more than happy to explain how it works.